Get the Lowest Interest Rate for a Personal Loan in UAE
People usually think that private lending in Dubai, Ajman, Sharjah, or even the whole UAE is the toughest task. Normally it is a concept developed by the people that the UAE only gives personal loan services to their residents. They think nobody else can get the same opportunity while living in the same place. But the banking sector existing in Dubai proves that there is no such reality in this news. Because they offer equal opportunities for all people. Now everybody can get the lowest interest rates for a personal loan in UAE.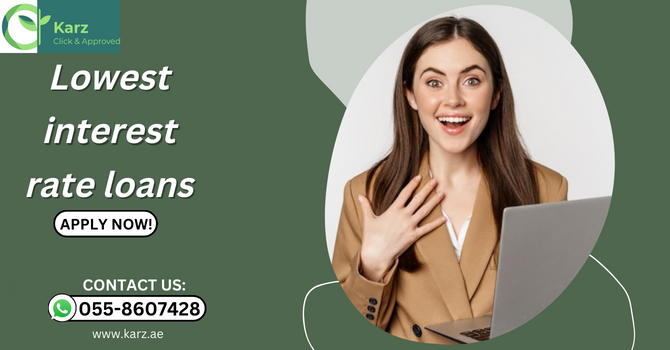 Whether you are an expat or you are a local person. When we talk about the prominent banks that are giving their loan services for many years and are usually known as the famous banks of UAE. So, many names come to mind, In which, the top banks are Emirates NBD, RAK bank, Dubai Islamic bank, and other most of Islamic banks. Because all these are giving personal loans at good lowest rates that everybody can easily afford.
Why are Personal Loans getting Famous Day by day in UAE?
The popularity of personal loans is increasing with time due to enormous reasons. There can be many private matters that need to be addressed in this case, especially the matter of unpaid debts. This reason leads people to the way of personal loans and people go towards the various best personal loans in UAE. Because they face lots of criticism in case of debt and to save their respect in society they step forward to the personal loan service.
Similarly, you can see many other things involved in this. For example, shortage of money for business investments, the need for cash for urgent wedding arrangements, the construction of houses, and much more things. Even it will be helpful during any medical condition as well, so you can find many privileges of this type of loan.
How to Calculate a Personal Loan via a Calculator?
The calculation process is not as difficult as most people think. You will find out this method is the most comfortable and easy one. There is a specific calculating tool exists that is used to calculate the total values of loans. After calculating those values it will give you an accurate answer about your EMI. The first step is to go to the online website of any bank or any other financial institution or you can simply search for the best personal loan UAE calculator.
You will see that calculating tool in front of your screen, now insert all your values in those empty spaces and fill them out without making any errors. The first value consists of the loan amount, the second one will be the duration and the last or third will be the interest rate. At the end just press the button below the tool and calculate it. You will find out the exact answer in the form of a monthly installment.
What things are Essential while Applying for a Personal Loan?
Some specific and important papers exist relevant to a personal loan. Without these documents, most financial institutes may not allow you to get loans from them. To get a personal loan UAE interest rate at its lowest price among many other facilities. You need to bring your ID card copy, expats should bring visa and passport copies also. The remaining things include the statements of the bank, any previous records or history, salary slips or certificates, driving and trading licenses, etc. So, prepare your relevant data before applying for a personal loan in UAE.