Top 10 Banks Offer Car Loans in UAE
In United Arab Emirates (UAE), purchasing your own personal vehicle becomes only possible because of a Car loan in UAE. The availability of such loans is much easier. Only you need to understand the basic process that includes the documentation, form fill, and eligibility criteria.
Mostly, the buyers choose the option of a car loan, so as to never disturb their finance. The loan is perfect for both situations if anyone wants to get a new car or a used car. Karz gives the best loans for buying cars with a low-interest rate. In addition, they offer free services for applying. It means you will not pay any additional cost.
Requirements for Availing of Car Loans in UAE
Whenever you decide to buy a car with the taking of financial help, below are the essential requirements. Almost every bank or financial institution offers loans on the basis of these requirements.
Documents:
The provision of documents is a compulsory part of applying process. Without your documents, you cannot apply. The proper submission of the documents helps in the decision of the lenders' approval or rejection. These documents are:
Emirates ID

Bank statements for the past three to six months

Proof of monthly income

Valid driving license

Proof document of insurance policy

Valid passport or visa
Car's registration
A driving license is the most needed document. Even if you are an ex-pat, this license of your home country must validate. In case your license is invalid, you have to get a UAE license. After that, you will become an eligible person to drive your vehicle and get financing help.
Salary and age
Below 21 of age, the applicant is not eligible. All banks have the criteria of a minimum of 21 years for applying for this loan. Further, the requirement for salary is different from one bank to another. Most probably, the monthly income must be from three to five thousand AED.
Payment tenure
The payment tenure decides on the factor of the old car's model. In general, the tenure is above sixty months. This duration is much shorter for older cars. As an example, if you choose a ten-year-old model, you have only 2 years to repay the amount.
Maximum loan amount
One thing that you should clear in your mind is that you have to pay the twenty percent amount in advance. The reason is that banks will offer 80% of the car's finance. Furthermore, many financial companies give a maximum of 20000 AED as debt.
10 Best Banks Offer Car Loans in UAE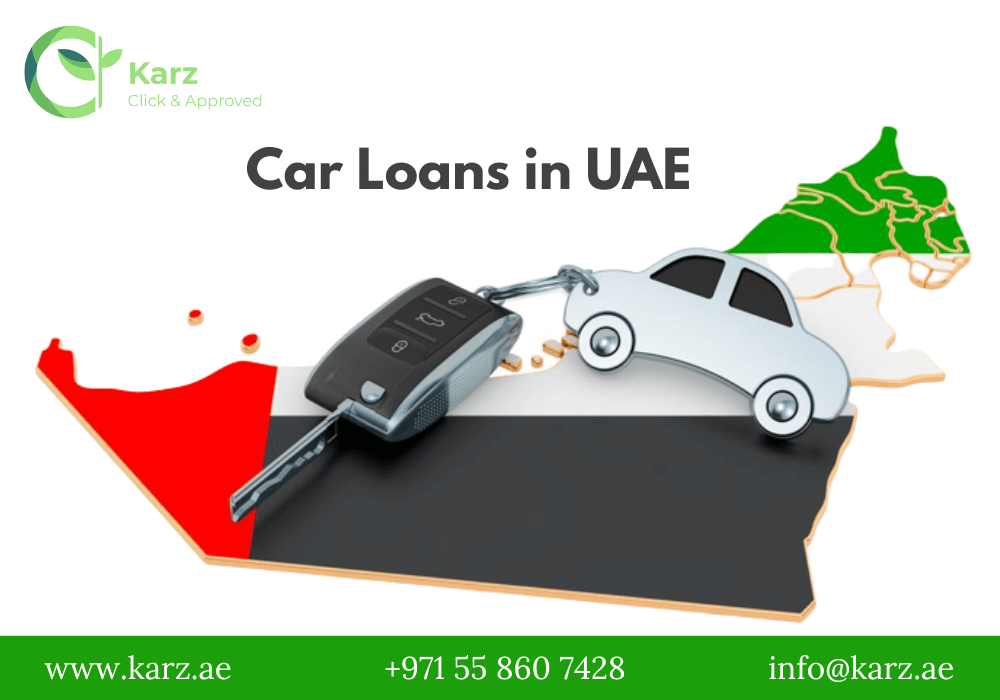 Now, we will guide you on those banks that offer car loans. All of these banks are top-rated and satisfy the customer's needs for financing. They provide the best services with the lowest interest rates. The terms are also simple that everyone can easily understand.
1. Emirates NBD Car Loan
There are large varieties of car loans by Emirates NBD. These types depend on the car categories. For the personal use of the vehicle, the bank will offer 80% of the amount and the remaining 20% you have to pay. If you are a sports car lover, you will need a 25% advance payment and the remaining 75% finance will pay by the bank. The maximum amount for applying is 500000 AED. You cannot exceed this limit.
The interest rate is less than 2% and is of fixed type. You have approximately sixty months to repay the amount. As we told you not every bank has the same requirement for salary. This bank's required salary of four to fifteen thousand AED. Some extra benefits include free getting off a credit card.
2. ADCB Car Loan
You can apply a maximum of 1.5 million AED. This amount is enough to buy a high-quality model of vehicle. ADCB bank ensures that all borrowers can purchase the vehicle of their own choice. Within 60 months, you can easily pay off. The requirement for minimum salary must 5000AED. The percentage ratio of the payment is 80% & 20%.
ADCB is famous for both options of fixed & reducing interest rates. The fixed percentage of interest amount is 1.99%. On the other hand, the reducing percentage of interest is 3.65%. When you get this finance of at least one thousand AED, you will get the reward of 50 Touchpoints instantly. These touchpoints are beneficial in any purchase.
3. FAB Car Loan
The FAB bank helps individuals. So they get a relaxing feeling during the tough times of finances. It is a reason you should consider it for any amount of car finance. Likewise ADCB, its maximum debt amount is also 1.5 million. For repaying, its period is up to 60 months. The salary requirement for a salaried individual and a self-employed is eight thousand and twenty-five thousand respectively.
FAB's interest rate is different for nationals & ex-pats. There is not much difference but the fixed rate for a national is 1.99% and it is 2.15% for an expat. The bank also considers your working category like if you are a salaried person or self-employed. For all the self-employed individuals, the flat rate is near around 3% and the reduction is 5.62%.
4. DIB Car Loan
There is a large variety of the DIB's loans for cars from personal use to commercial needs. You can choose the type which is ideal for your need. For instance, now many people prefer electric cars for daily traveling. Its benefit is that no need of spending money on petrol every day. DIB has a proper debt package for such electric vehicles also. Another specialty is that you cannot need to do a salary transfer.
The finance help provides on new as well as old models. The minimum salary must start from 3000 AED. Moreover, the overall duration is more than sixty months. All the fees and charges are not higher. They are in your budget. Their interest rate is 3% for flat and 6% for reducing.
5. Mashreq Car Loan
Mashreq Bank includes in the list of that financial helper that supports their customers financially in every situation. By providing car loans for home or other finances, you will get their aid in every problem of unexpected finance. The maximum amount that you can get is 500000 AED. This limit will only exceed if a borrower has a high monthly income salary.
The interest rate is just 3.45% for the flat category and it is 6% for reducing. You can choose the duration of the monthly repayment. It is up to you if you want to pay it off quickly. But, the maximum period will be 5 years. In particular, if any loan comes with some additional benefits, it means they are perfect to choose from. The Mashreq bank offers a free credit card for a lifetime when you get their loan.
6. RAK Bank Car Loan
The major ambition behind the working method is that there must be minimum formalities for their clients. Without much effort, the clients can easily apply for loans in their bank. It gives you the happiness of sitting in the driver's seat and driving your own car. The loans are available on any sport or luxury model. The processing fee is compulsory. For an individual customer, it is only 1% and for a business customer, it is just 1.5%.
For a salaried client, it is from 2.85%-3.55% depending on the amount. However, for a self-employed client, the interest rate is 2.95%-4.25%. The good point is that you have full relaxation of paying your first repayment because the time for the submission of the first payment is 60 months. The companies can also get a loan if they want to buy cars for their professionals. But, the company should work for a minimum of one year.
7. Emirates Islamic Bank Car Loan
It is one of the best banks that operate accordingly Shariah's rules. Personalized services are especially for getting the trust of the customer. This Emirates Islamic Bank provides an instant & easier approval process. You will get instant results from your loan application. No need for salary transfer. All the procedure is quicker. Therefore, you will not only apply quickly but also get approval in a shorter time. The finance services also come with insurance and other accessories. The monthly salary must be up to 10000 AED. But, for a brand new car, it must be 50000 AED.
If you prefer only to buy a new vehicle, the flat interest rate is 2.49% and the reduction is doubled to the flat. On the opposite side, the debt for used autos is a minimum of 3.19%. After sixty days, there is a compulsory step of paying down the first installment. The extended tenure for installments is up to five years.
8. ADIB Car Loan
ADIB is not only a large bank but it is also one of the largest Islamic Banks throughout the world. Their financial products are Sharia-compliant. They include loans, investments, and many other things. Due to the availability of the online application process, the processing of applying is so convenient. With an easier process, the approval time is also less. Although no need for salary transfer, a person with a salary account in this bank gets an opportunity to avail the higher debts.
Car loans are affordable only because of low-interest rates. These rates are started from less than 2%. Such an advantage will surely help in managing the pay-off repayments in your budget. Nationals have the option of a maximum of 1 million AED amount of debt. But, the ex-pats can avail half of this amount maximum. You can choose low monthly repayments because the total period of repaying is more than five years. The good suggestion is that always choose the shorter tenure because the higher tenure may cost more.
9. CBI (Commercial Bank International) Car Loan
When you select your dream car to buy but still worry about the budget, CBI gives the best assistance. The bank provides the debt in a fast & easy way. The Emirates ID must be valid and attached to the form. No matter if you are a national or an ex-pat, proof of a valid passport is mandatory to submit with your application. It gives surety about your accurate identity. Bank does this step to stay away from any scammer. The driving license must be from UAE. Expats cannot claim the validity of their homeland's license.
As we all know, the interest rate is compulsory and applicable like in many other banks. CBI's interest amount is 3%-4% which is in an affordable range. For any further help, they have customer services online as well as in-branch. You can choose the suitable one for any assistance. One more crucial factor is the attachment of the dealer quotation for both cases of buying a new or used vehicle.
10. DEEM Finance Car Loan
The persons residing in the United Arab Emirates can get the numerous advantages of Deem Finance. This bank has competitive interest rates. No doubt, there is complete peace of mind when they choose and apply for the car loans of their demands. All of its loan types are very popular. In fact, the repayments are affordable. Borrowers will repay the amount with a relaxed mind. it cares about the customer, so always tries to satisfy their financial needs.
Credit cardholders have more benefits from low-interest rates. Its interest rate starts from 3-4%. It has an online tool for calculating the repayments with their interest amount. Only you will need to choose the tenure months. Then, this tool automatically calculates and tells you about the total finance till the end of installments. Your salary should just 5000 AED monthly. For identification proof, there must presence of an Emirates ID.
How to Get a 0% Interest Car Loan?
It is only possible if a bank and financial institution mentioned in their terms the 0% interest rate. For choosing a 0% interest amount, The Karz finance company has a list of banks that offer car loans in UAE. It offers higher debts also with fast approval. In addition, the company will not charge any single fee. So, you will conveniently avail of the loan amount.
Final verdict
All banks are working great to provide loans for buying your favorite car. You should do a comparison between these banks in order to choose the ideal one for your need. Always make a proper plan of tenure and also choose the debt without a higher interest rate. It is beneficial for effortless monthly repaying.