Home Loan in Dubai - Requirements of UAE Banks for House Loans
Dubai is a homeland of Arabs with huge cultural differences and amazing beautiful locations. People try to get their own homes within this dreamland for the improvement of their lifestyle. They also want to settle their families here, that's why obtaining a personal home is an essential part of their life. When we talk about expats, that lived here for many years alone or with families, they also try to get that facility. For such purposes, both individuals try hard to achieve their goals while living in UAE. But if anyone can not afford the home with monthly earnings, so the best option would be to obtain a loan.

This is the only way, through which an individual can settle down all kinds of matters related to purchasing a personal home. A home loan in Dubai is considered the biggest facility that UAE is giving to its consumers through its banking system. Particularly when you are living in Dubai, just go to the nearest branch and talk about your issue at the home. Bank will suggest to you the best option regarding the home loan so that you can avail it with basic terms and conditions.

Anyone who wants to obtain a home loan in UAE should get the info first about the loan. Also should know about the rates of interest, duration of repayment with the installment rates, and methods. This would be an essential part of getting or applying for a home loan in Dubai. People mostly don't know the exact procedure of loan application, therefore they try to get info through other various sources. This article will explain those sources with the advantages of home loans and the requirements attached to them in the UAE banking sector.
Advantages Related to Home Loan in Dubai

• Home of your own choice
Sometimes we wish to buy a home according to our own choice but due to different situations, It can't be possible. But now the time is changed with the advanced characteristics of home loans. This is the biggest benefit of taking home loans that anyone can make, purchase or modify according to their own wish. Banks of UAE will always be ready to serve their services of the loan with very simple and affordable interest rates.

• Flexibility in Duration
Another type of advantage consists of flexibility in terms of time limit, in which duration of installment is involved. Bank will provide the easy duration for home loans in Dubai. you will be happy to have it and can easily pay it without facing any difficulty. The period usually depends upon the loan that you are trying to get for your home. It may be a long-term duration or may be short-term duration loan. If you find any fluctuation and disbalancing in terms of period, you can easily contact the banking staff of UAE. The staff will always be ready to assist you and will clear your mind about the period of your concern.

• Simple Installment
People are more aware of the installment methods of home loans and want to know more details about them. So the bank will inform them about the techniques and methods of their monthly basis installments with the rest of the information. A candidate should consult the bank before applying or form filling procedure, to know the exact requirements and installments. Even an individual can also calculate the EMI by own self to check the installment rates every month.

• Benefit of Tax
This is the most amazing benefit of this loan, that you can save the amount of tax because of its huge interest rate. According to the income tax constitution, if interest is too high for a home loan, the tax deduction will also be included. So, you should be happy while taking a home loan in Dubai, because of the relaxation in terms of income tax. You don't have to pay much amount and can easily maintain the installment of your home.

• Pre-authorization
People think that the process of loan approval will be so complicated and usually, it takes too much time for approval. But in reality, this is a fake concept or myth about the banking sector of Dubai because the process will be so modest. It is also known as the pre-approval or pre-authorization method because of its fast approval service. So, do not believe in anyone and get your information through the legal sources of banks via calling numbers and visiting web pages.
Criteria of UAE Banks for Home Loans in Dubai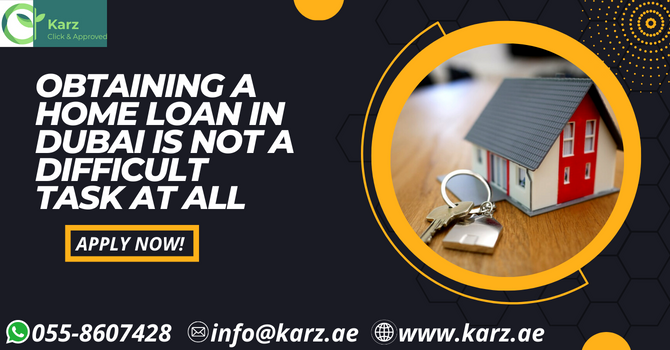 • RAKBANK Home Loan
This bank is an Islamic bank with accessible adequate rates and with a starting rate of 3% or less. This bank will receive your monthly installment without a salary transfer option, you will send those repayments by your own choice. When it's about the minimum requirement for the salary, so you should keep in your mind the minimum amount of 15000 AED. RAKBANK offered the starting monthly installment amount of about 7000 AED.
• Emirate Islamic Finance Bank Home Loan
It comprises Islamic laws because it is based on the Islamic sharia constitution with the easy installment method and low-interest ratio. When we talk about value of the home loan in Dubai, so this bank is offering different values for the ex-pats and natives. For expats, the value will be almost 80% and for residents, this percentage of value will be increased by 85% of property value. The repayment duration would be up to 25 years almost, which would be the most flexible duration for this home loan. It will offer almost 1% processing fee with this loan for all candidates of Dubai. The rate of interest that will provide to you will be based on a flat or constant ratio and it can not modify with time. The most important thing is your minimum salary for the home loan, which can be up to 15000 AED.
• HSBC finance Bank Home Loan
It is Another bank in UAE, which is popular due to its extraordinary financial services specifically related to home loans. This bank is giving the amount of home loan, which is almost about 20 million to both residents and non-Residence of Dubai, UAE. The required lowest amount for the salary will be 15000 AED, it is the minimum requirement from this bank. It also gives you the best option related to your monthly installment, you can send it without transferring your salary directly.
What are the Legal Requirements for a Home Loan in Dubai?
First of all, the requirements for home loans in banks of UAE are different from each other visit Karz.ae official website. Some will give you loans with high interest or some banks will give you low interest because of the Islamic banking system. The salary range will be up to your bank where you going to relate for a home loan in Dubai.

• The second most important thing is that whatever the bank you selected for a loan but keep your all documents ready with you. Especially when you are going towards the bank at the time of applying for a home loan.

• The documents that you need to arrange with your application are as follows. copy of visa plus copy of passport (for ex-pats), your legal emirate ID, and previous bank statements for about 4 to 6 months old. Additional things included your driving license, pay slip, trading slip, utility bills, etc.

• The next vital thing that bank will consider is the age factor of a candidate. So before applying make sure your age is according to the bank's required age or not. Age would be more than 20 years and you should be mature enough for a home loan. If you really interested in this loan, so don't forget all these essential papers with you.