Personal Loan in UAE without a Salary Transfer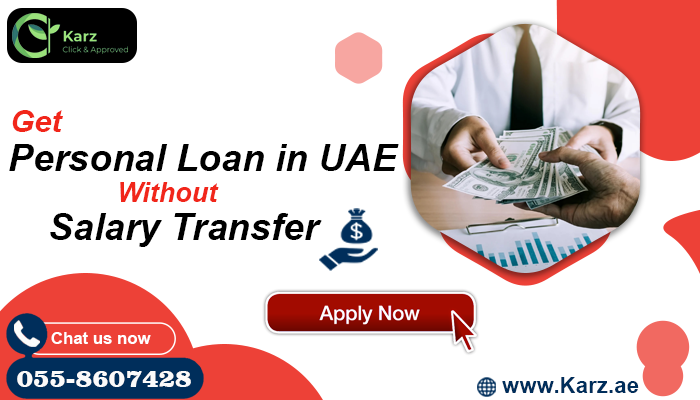 Taking a personal loan from bank is not a big problem nowadays because banks are now providing various options that can be beneficial for candidates. In old days, there was a concept of salary transfer with the personal loan service. That was due to some specific reasons and for some people, that method was convenient.
Because of that, they can directly transfer their salary without facing any other procedure required by the bank. But there were many complications also attached to that method and later most of the people asked for the non-transferring of their salaries. Therefore, the banks changed the way of getting installments in the form of salary transfers.
Now, personal loan in UAE without a salary transfer process is more common than the salary transfer method. The nationals of UAE and the expats are also very much satisfied with this change. There are many reasons behind such personal loan modifications in the banking system.
This article is based on these modifications and you will know about the features of without salary transfer plus the eligibility of such personal loans. You will also know about the several types of banks that are providing the facility without salary transfer.
Aspects of Personal Loan without Salary Transfer in UAE
Reasonable and unrestricted
The huge quality of without salary transfer personal loan is that it will be very reasonable and manageable for you. There will be no any kind of restrictions imposed on your loan related to your salary. The clients are happy with this new facility, now they don't have to worry about direct sending of their salaries.
It will be a very reliable and convenient method because no hard and fast rules will be applied to such a process. Personal loan in UAE without salary transfer will be easily accessible and you can also apply with only your emirate ID. Because your ID will be the most essential component in this matter. A candidate also can apply via the online procedure, with which he can easily reach out for personal loan without a salary transfer method.
You can avail the lots of advantages also with this facility, like several kinds of insurance policies will be attached as a benefit. Similarly, you can also get free access to credit card facilities with it. So, it will be beneficial for all the nationals and expats of the UAE.
Major Banks that give Personal Loans in UAE without Salary Transfer
There are many major banks are here, that are busy serving personal loan in UAE without salary transfer facilities. The few names are as mentioned below:
Citibank
FAB
Deem
RAKBANK
In the above-mentioned few banks,  the city bank is most famous for giving the without salary transfer service. The minimum requirement for salary is 8000 AED. The other is FAB, that is providing this facility for expats with a minimum salary requirement of 15,000 and the same amount is for the locals also.
Eligibility with Documentation
The basic demand for the salary of personal loans is 5000 AED minimum.
The next major thing is your age, which should be 21 years as a starting age and it will be ended up at 60 to 65 years.
Another essential thing is your experience at the work. All the banks will check your experience letter with the address of your company, workplace, or business.
Outsiders will be welcome here if they have their original passports and visas.
Must come along with your valid ID card of an emirate.
Salary slips and bank statements also play a crucial role in this case.
Karz.ae is the online platform where you can apply for personal loan in uae without a salary transfer. We offer almost all banks facility without any charges.